Recipes to Fuel Play and Learning
Annabel Karmel, Founder, Karmel Foods, said: "I'm thrilled to partner with Edx Education. Children of all ages can benefit from creative play and for this they need to be fuelled on the right foods. Eating habits and tastes are formed from an early age, so it's crucial to introduce a good variety of nutritious foods at the earliest possible opportunity. Edx Education share my vision to ensure children stay fuelled on the right foods to support them in these all important early years. Their philosophy of 'Learning through Play' is such a fantastic approach and together we hope that my brain boosting recipes will inspire parents to encourage interactive play and healthy eating at home."
Feed Imaginations with Annabel's Supercharged Recipes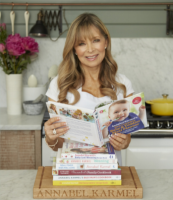 Edx Education is excited to announce its partnership with the UK's no.1 children's cookery author Annabel Karmel. The food expert is supporting Edx Education's 'Learning through Play' philosophy with a selection of exclusive 'Brain-Boosting Recipes'. Children of all ages can benefit from creative play and for this, they need to be fuelled on the right foods.
Eating habits and tastes are formed from an early age, so it's crucial to introduce a good variety of nutritious foods at the earliest possible opportunity. Drawing on her 28 years of recipe expertise, Annabel has cooked up four delicious brain-boosting recipe cards for under-fives to fuel their learning and development and most importantly, play!
Rainbow Pizza
Vegetables with rich, deep colour are an excellent source of antioxidants to keep the brain cells healthy. It's easy to sneak veggies into spaghetti sauces, soups and homemade pizzas, just like this colourful rainbow pizza!
Prep: 20 minutes Cook: 25 minutes Makes: 1 rainbow pizza
Ingredients
For the dough
150g self-raising flour
135g natural yoghurt
Pinch of salt
Toppings
50g chopped tomatoes
1 tbs sundried tomato paste
135g mozzarella, sliced
6 cherry tomatoes, quartered
1 red onion diced
4 tbs sweetcorn
100g broccoli fleurettes
Method
Preheat the oven to 200 fan.
Mix the flour, yoghurt & salt together until you have a soft dough. Kneed out to a rectangle about 25 x 13cm.
Place on a baking sheet lined with baking paper. Mix the tomatoes & sundried tomato paste together in a bowl. Spoon over the base. Top with the mozzarella slices.
Cook the broccoli in boiling water for 3 minutes. Drain & run under cold water. Arrange the tomatoes, broccoli, onion & corn in neat rows.
Baked for 25 minutes until the base is cooked & the cheese has melted. Slice into triangles.
Frittata with broccoli & cherry tomatoes
The yolk of an egg is rich in Choline, which is vital for the creation of memory cells deep within the brain. Eggs are also high in protein and contain iron, folate and vitamin A – all of which are important for the growth, repair and development of cells.
Prep: 20 minutes Cook: 20 minutes Makes: 6 portions
Ingredients
1 tbsp olive oil
1 red onion sliced
½ red pepper, diced
80g tender stem broccoli spears
75g cherry tomatoes quartered
2 tbsp fresh basil, chopped
50g parmesan, grated
5 large eggs, beaten
2 tbsp milk
Method
Preheat the oven to 180C Fan. Line a 20cm square baking tin with baking paper.
Put the onion and red pepper on a baking sheet. Add the oil and season. Roast for 15 minutes.
Blanch the broccoli for 4 minutes in boiling water. Drain and refresh with cold water.
Mix the eggs, milk and parmesan together in a bowl. Add the basil, cooked vegetables and tomatoes. Pour into the tin and arrange the broccoli on top.
Bake for 15 to 20 minutes until lightly golden and just set in the middle.
Leave to cool slightly and slice into triangles or fingers.
Baked oatmeal cups with blueberry yoghurt
This recipe is a brain-boosting triple threat! • Blueberries are a powerhouse of energy and nutrients • Yoghurt can help keep brain cells in good form for sending and receiving information • Breakfast filled with oats provides excellent energy for the brain that kids need first thing in the morning.
Prep: 20 minutes Cook: 25 minutes Makes: 12 oatmeal cups
Ingredients
225g small porridge oats
75g maple syrup
50 ml sunflower oil
Pinch of salt
15g desiccated coconut
2 eggs whites
Blueberry Yogurt
150g blueberries
1 tsp maple syrup
2 tbsp water
300g natural plain yoghurt
Fresh blueberries, raspberries and pomegranate seeds to decorate.
Method
Preheat the oven to 160C Fan. Grease a muffin tun with sunflower oil. Measure the oats, syrup, oil, salt and coconut together in a bowl.
Add the egg whites and stir until the mixture comes together. Divide between the sides and over the base of the muffin holes.
Bake for 25 minutes until golden and crisp. Transfer to a wire rack to cool.
Put the blueberries, maple syrup and water into a saucepan. Heat until the blueberries are just about to soften. Remove from the heat. Blend until you have a smooth puree. Sieve the puree into a bowl. Leave to cool. Once cold add the yoghurt and mix well.
Divide the mixture between the cups. Decorate with the fruit.
Salmon fishcakes with sweet potato fries
It's important to include oily fish like salmon in your child's diet as the essential fatty acids are integral for their brain and visual development. The beauty of these fish cakes is that the salmon remains tender & succulent after cooking. Serve with sweet potato fries and a refreshing Greek yoghurt dip.
Prep: 20 minutes Cook: 30 minutes Makes: 15 fish cakes
Ingredients
Fishcakes
250g potatoes, peeled & diced
250g salmon fillet, skinned & cubed
4 spring onions, sliced
50g cheddar cheese, grated
2 tbs mayonnaise
1 tbs ketchup
25g plain flour
1 egg, beaten
75g panko breadcrumbs
Sweet potato fries
 250g sweet potatoes
2 tsp cornflour
1 heaped tbsp sunflower oil
Dip
3 tbs mayonnaise
2 tbs Greek yoghurt
1 tsp chopped thyme
Lemon juice
½ clove garlic, crushed
Method
Cook the potatoes in boiling salted water for 15 minutes. Drain & mash. Leave to cool.
Put the salmon into a food processor. Whiz until roughly chopped. Add the mashed potato, spring onions, cheese, mayo, ketchup & slightly season.
Whiz quickly to combine everything. Shape into 15 cakes. Coat in flour, then in egg and finally in the panko breadcrumbs.
Heat a little oil in a frying pan. Fry the cakes until golden on both sides. Transfer to a baking sheet and bake in the oven for 10 minutes.
Increase the oven to 200 Fan. Toss the sweet potatoes in the cornflour & oil. Place on a baking sheet & bake for 25-30 minutes until crisp.
Mix the dipping sauce ingredients together in a bowl and serve with the fishcakes & sweet potato fries.