In this day and age, more than ever before, it is important to encourage children to be creative and imaginative. Technology has advanced so much that it is all too easy for children to be glued to their phones or spend every waking moment playing on a tablet or computer. 
The good news is that there are many games and toys that inspire imagination on the market that can aid in your child's development and encourage creativity. These toys are great for kids and will play a big role in the way children learn and develop, encouraging open ended play. They help them develop motor skills, socialise and even discover the world around them. 
Here we've put together a list of toys that inspire imagination and encourage children to get creative. These creative toys are less likely to become clutter because they can be used in a variety of ways. Our preference is open ended toys that allow our children to be creative and imaginative when they play. Many of them work well for a broad range of ages, or are toys that grow with a child, and none of them are electronic!
Building and Creating
Block Sets
You cannot get more classic than a set of wooden blocks. Kids love playing building blocks from an early age. They will use their imaginations to build homes, towers, roa
d and more. When kids have open ended toys like this, you may sometimes be surprised to see what they create, often bringing other toys into the mix.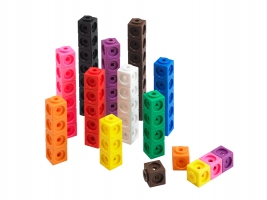 Cube Sets
With Interlocking Cubes Activity Set the possibilities are endless. It will help children develop their skills in basic number concepts. Explore basic geometric concepts through construction activities. Have fun as one or in groups advancing building skills, creative thinking and problem solving skills.
Tile Sets
Polydron and Magna Tiles are both great magnetic tile sets for building fine motor skills, encouraging creative thinking and sharpening budding engineering skills in both young children and older children alike.
Bead Sets
A fun and interactive way to learn about shapes, size and colour with Edx Education's Fun Play Attribute Beads. The beads have threading holes perfect for lacing
activities. They are ideal for sequencing, classifying by attribute, sorting, pattern making and more. A great way to get creative and improve fine motor skills.
Construction Sets
Our Theme Park Construction Set will enable your child to have all the fun of the fair whilst developing their fine motor skills and creative design skills. The Geostix Letter Construction Set allows children to use their imagination, creativity and problem solving skills to form interesting and colourful designs and learn letter formation. 
Find out more about the role of learning toys in our Educational Toys for Child Development blog.
Inspiring imagination
Fort Making
You can make your own DIY fort kit with a sheet or blanket, couch and a few chairs and some clothespins for great imaginative play. Or you can invest in a fort kit which will be fun for kids to put together themselves.
Music and Movement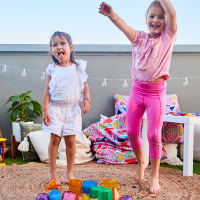 Your child will have great fun dancing with our Dancing Ribbons. The colourful and bright ribbons have woven nylon hand straps. Each ribbon set contains 6 different coloured 1 metre long strands which create a fantastic visual display as they loop and twirl with the rhythm of your dance. This is great coordination and physical play that can be done both inside and out.
Dressing Up
All kids love to dress up when they pretend play. Look around for second hand costumes you can use for playing in garage sales, on social media marketplaces or in second hand shops. Also pass on anything that you are no longer using like hats, scarves, and belts that they could use. Your clutter can become their costumes!
The Ultimate in Inspiring Imagination
And finally, of course there is the good old cardboard box! Nothing encourages imagination
like a large cardboard box. Kids have loved boxes since boxes were invented. It can be a spaceship, a kitchen, a bed, a car, a bus – whatever your child imagines it to be. Give kids pens to decorate and transform. It will provide hours of fun. It's one of the all-time favourite creativity toys and it's free!
View our full range of educational toys for kids of all age groups, abilities and developmental stages here:

UK –

https://www.shopedx.co.uk

 
Edx Education – Heather Welch
To find your local Edx Education retailer head over to Where to buy – Edx Education. 
https://edxeducation.com/wp-content/uploads/2022/07/edx-education_12710_Math-Cubes-2.jpg
1000
1000
edxseo
/wp-content/uploads/2019/11/edx-logo.png
edxseo
2022-12-01 22:09:23
2023-08-30 09:12:18
Toys To Inspire Imagination