Learning from home can be so much fun with the Edx Education ranges and now they will be featured in Amazon Deal of the Day toys USA on September 2nd 2021.
On Thursday, September 2nd, Edx Education will be featured front and centre on the home page of www.amazon.com for a period of 24 hour as the Deal of the Day in the United States. So, if you are looking for Amazon Deal of the Day toys for educational purposes, keep tuned to www.amazon.com on that day.
Edx Education products were handpicked due to the increased popularity and the increased importance of complementing learning at home and in the classroom. Educational toys ignite the imagination, enabling multiple ages to play and learn together – catering for all abilities in children's learning development, from 18 months to 10 years. All products are currently found on www.amazon.com/edxeducation however will be featured on www.amazon.com home page for 24hrs.
What are Amazon's requirements for Deal of the Day? Amazon's Deal of the Day selections hinges on two important factors – items must be a hot seller and have amazing offers including toys deals. Amazon also takes into account customer reviews, stating that each product has to have at least 10 customer reviews of an average of at least 3.5 stars. And Edx Education qualifies for all of the above!
Learning Through Play with Edx Education: hands-on learning experiences, award-winning toys, home learning activities, downloadable resources, educational play ideas and advice, and so much more…
If you're looking to score some back-to-school savings on educational toys, throughout the summer holidays in August is the time look. Another great Amazon event to watch out for is a possible second Amazon Prime Day 2021. It took place as two-day sales over June 21 and 22 this year, and Amazon may wish to hold it again in October considering its wild success.
Last year Amazon Prime Day deals were pushed back from June to October 13, after the global pandemic. The move sparked the beginning of three months of sale frenzies of games deals and playsets of big-name brands such LOL Surprise, Hot Wheels and Hasbro Gaming, running all the way from the early autumn right up to Black Friday and onto Christmas.
Learning together as a family with Edx Education's quality home learning ranges.
Complement classroom learning at home with educational toys and resources with hands-on learning for children with the following products, all of which will feature as Amazon Deal of the Day toys for educational purposes on Thursday, September 2nd.
Double-Sided Geoboard Set – In Home Learning Manipulative for Geometry and Creativity – 5 x 5 Grid/12 Pin Circular Array – Set of 6 with Rubber Bands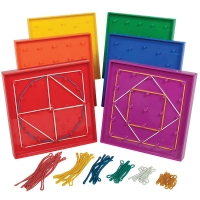 TEACH EARLY STEM – Geoboards are a great way to teach spatial and mathematic concepts visually and practically. Show how triangles, squares and pentagons relate and how their shapes affect their area.
A FUN LEARNING ACTIVITY – Children love to create their own colourful shapes with these learning boards. How many shapes can they make in three minutes? What is the largest pentagon they can create? A perfect activity for the home or classroom.
VERSATILE – Use four geoboards to create a coordinate pegboard where each of the 4 quadrants on the x and y axes is represented by a different colour rubber band.
Rainbow Pebbles – Set of 36 Sorting and Stacking Stones with 20 Activity Cards – In Home Learning Toy for Early Math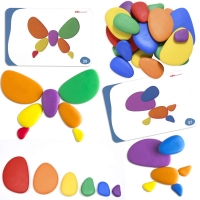 BRIGHT COLORS AND WONDERFUL TO TOUCH – These lightweights, colourful stones have immediate visual appeal plus their warm, smooth surface makes them a wonderfully tactile early math resource. Children will be fascinated by the pebbles' bright colours, odd shapes and warm feel which make stacking even more fun.
TEACH STEM – These plastic pebbles are great for stacking and developing fine motor skills. Use the multiple coloured pebbles to make artistic designs or teach children counting and sorting exercises.
AN EARLY MATH MANIPULATIVE – Young minds will love this hands-on teaching aid in learning how to count, add and subtract. Rainbow Pebbles have a ripple effect on children's imagination as they play!
Step-a-Trail – 6 Piece Obstacle Course for Kids – Indoor and Outdoor – Build Coordination and Confidence – Physical and Imaginative Play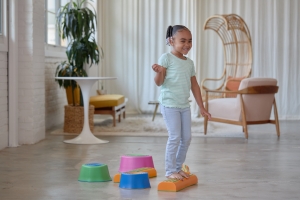 Edxeducation Step-a-Trail – 6 Piece Obstacle Course for Kids – Indoor and Outdoor – Build Coordination and Confidence – Physical and Imaginative Play
IMPROVE COORDINATION – Use the different heights of the stepping stones and logs to teach better balance and movement while increasing the child's sense of coordination in a safe environment
TEACH CONFIDENCE – A great toddler and kindergarten toy to teach children confidence. Works well with river stones or other balance items to create an obstacle course
Plastic Pattern Blocks – Set of 250 – Early Geometry Skills – Math Manipulative for Shape Recognition, Symmetry, Patterning and Fractions – Ages 4+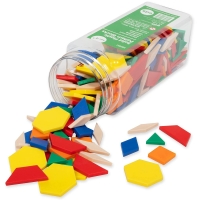 Edxeducation Plastic Pattern Blocks – Set of 250 – Early Geometry Skills – Math Manipulative for Shape Recognition, Symmetry, Patterning and Fractions – Ages 4+
A BULK 250-PIECE SET – This massive set of standard pattern blocks includes 25 yellow hexagons, 25 orange squares, 50 green triangles, 50 red trapezoids, 50 blue parallelograms and 50 tan rhombuses
THE RIGHT FIT – These Pattern Blocks are precisely cut to easily fit together in every possible shape, combination and pattern. No awkward gaps or holes!
TEACH EARLY MATH – Use these math manipulatives to demonstrate math concepts such as: symmetry, fractions, measurement and shape attributes
21365 Junior GeoStix – In Home Learning Toy for Early Math and Creativity – 200 Multicolored Construction Sticks – 30 Double-Sided Activity Cards – Geometric Manipulative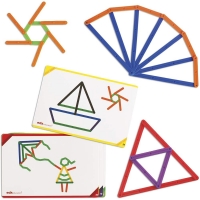 CONSTRUCTION TOY FOR AGES 3+ – These construction sticks are a great way to build foundational math, construction and fine motor skills! Includes 30 double-sided activity cards, 200 flexible plastic sticks in 10 different lengths and a storage box.
A UNIQUE WAY TO LEARN – Our Junior GeoStix have multiple points of connection along each piece for unlimited possibilities for shape combinations and greater satisfaction for kids!
INCLUDES 30 ACTIVITY CARDS – Use the included construction cards to develop children's early math skills and their ability to follow instructions.
INSPIRE CREATIVITY – Children can either build the design on the Activity Cards or create their own designs. Either way, they can use those designs further in imaginative role play.
Four Color Plastic Base Ten Set – 121 Pieces – Hands-on Math Manipulative for Kids – Teach Number Concepts, Place Value and Measurement – Math Learning Tools for Kids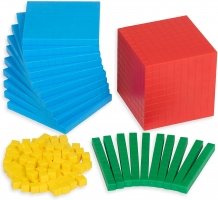 COLOR CODED FOR LEARNING – These plastic base ten counting blocks include 100 yellow units, 10 green rods, 10 blue flats and 1 red cube. Practice decimals, place value, counting, operations and more.
HANDS-ON LEARNING -These math cubes allow students to create visual representations of arithmetic and algebra exercises using the ones, tens, hundreds and thousands cubes.
HELP KIDS ACHIEVE MATH STANDARDS – This base ten set can help kids understand grade-appropriate math material such as place value, decimals, length and volume.
24526 School Friendly Playing Cards – In Home Learning Game – Set of 8 Decks – 448 Cards – Multicolored Patterned Cards Numbered 0-13 – Teach Counting and Probability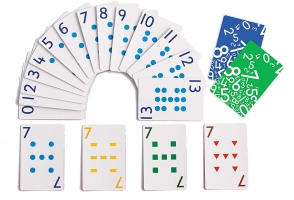 TEACH SUBITIZING AND BEYOND TEN – These School Friendly Playing Cards feature 4-colored shapes and subtilizing patterns numbered 0-13. Use these faceless cards as a child-friendly alternative to classic card sets.
FOUNDATIONAL MATH CONCEPTS – Schools Friendly Playing Cards are a useful math tool to introduce early arithmetic. Teach beginner addition, subtraction, multiplication and probability.
A SIMPLE AND EFFECTIVE WAY TO LEARN – Using these cards as a math learning tool, students will also improve their basic arithmetic and subtilizing skills. Incorporating the cards into a game brings an element of competition and fun to learning math concepts. Plus, students can practice thinking with speed to beat their opponents!
Jumbo Tweezers – Set of 12 – For Ages 18m+ – 6 Colors – Plastic Toddler and Pre-School Tweezers – Develop Strength and Coordination for Children with Special Needs
12 JUMBO TWEEZERS – This set includes 12 tweezers in 6 different colors: blue, green, red, yellow, orange and purple. These colors perfectly accommodate counting and sorting kits!
MADE FOR LITTLE HANDS – These tweezers measure 4.5"L and feature an ergonomic design to fit comfortably in small hands. Children can easily pick up manipulatives during lessons or sensory play
EXERCISE FINE MOTOR SKILLS – Using Jumbo Tweezers with sorting activities strengthens children's pincer grip and develops fine motor skills. Ideal for occupational therapists!
Math Cubes – Set of 100 – Linking Cubes For Early Math – Connecting Manipulative For Preschoolers Aged 3+ and Elementary Aged Kids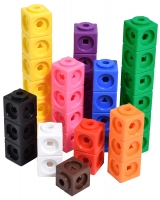 CLEVER DESIGN – These math cubes snap together with a soft click, making them an ideal fine motor, construction and creative activity for ages 3+
INSPIRE LEARNING WITH SHAPES – Five sides of each cube contain a different geometric shape to create more challenging activities: circle, square, triangle, pentagon and hexagon
INCLUDES 10 COLORS – Watch as your youngster learns the art of pattern making or how to apply colors to learn math concepts, such as addition and subtraction, with this set of 100 construction cubes
Student Place Value Flip Chart – Thousands – Learn to Count by Ones, Tens, Hundreds and Thousands
MASTER PLACE VALUE – Use this early math teaching aid to help children understand the importance of thousands, hundreds, tens and ones and how to order each value
EASY TO USE FLIP CHART – Using the ring binder, simply flip the thick cards over to reveal new numbers
GREAT SIZE FOR STUDENTS – Designed for student use at home or in the classroom, this flip chart measures 8.3″L x 3.5″W. Numbers are large and cards are bright for easy identification and greater learning potential!
Create lifelong learners with Edx Education's learning ranges. Play and learn together with quality educational toys. Play, learn and create!
https://edxeducation.com/wp-content/uploads/2021/08/DOTD-061-e1630067600819.jpg
103
200
edxseo
/wp-content/uploads/2019/11/edx-logo.png
edxseo
2021-08-26 23:05:02
2021-08-27 20:38:22
Amazon Deal Of The Day