Christmas is fast approaching, people are starting to wonder what to buy for their children (or what to ask Santa for…!). Which Educational For Toys Christmas are best? People are watching their budgets much more than previous years. We all know that there is a lot that goes into making a Christmas magical for everyone and households are already on a tight budget.
Toys with educational benefits are in favour as people are asking what will their child gain from the products they buy. Sustainability is a factor too; people are considering more and more what items will last. This is where toys that are suitable for multiple ages are perfect because they grow with your child making them a great investment. 
Find out more about child led waste in our Sustainable Educational Toy Manufacturers blog. 
Some people are following the Christmas Six Gift Rule trend where you limit gift-giving to six gifts, where each gift fulfills a specific gift parameter. These parameters are:
Something they want

Something they need

Something to share or for fun if just for one

Something to learn

Something to read 

Something to wear
Give the gift of learning this Christmas
Toys can offer so much to children, especially when they are educational toys. There are many different types of educational toys available that you can choose from according to your child's age and interests. They are not just for boys; they are not just for girls; they are for EVERYONE to enjoy together making them the perfect Christmas presents.
Educational toys play an important role in the development of a child because they stimulate cognitive, social and physical development. By buying educational toys for Christmas, your child will have fun with an entertaining toy and will learn at the same time with a gift that has been designed to develop intelligence and motor skills. Other benefits include: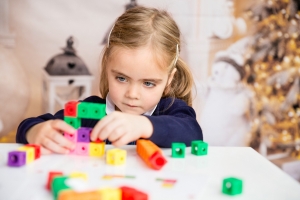 Developing creativity

Developing hand eye coordination

Encourage your child

to spend time playing independently and together

Help your child learn new skills

Encouraging using their imagination
Find out more about the role of learning toys in our Educational Toys for Child Development blog.

Perfect educational toys for Christmas and beyond

Learning to build 
We are delighted and very proud to announce that we have been chosen as Silver Award winners of the Made for Mums for the Theme Park Construction Set. It will enable your child to have all the fun of the fair whilst developing their fine motor skills and creative design skills. Using colourful cubes, triangles, quadrants and rods children can use their imagination to construct exciting and interactive theme park rides.
If you are looking for something that gives a little more than the usual building blocks, then look no further. With the Interlocking Cubes Activity Set the possibilities are endless. It will help children develop their skills in basic number concepts. Explore basic geometric concepts through construction activities. Have fun in groups or alone advancing construction skills, creative thinking and problem solving skills.
Learning to sort
We were chosen as Gold Award winners by Made for Mums for the Monster Counters Activity set. It contains 72 pieces of Vala, Nessy, Birdoo, Babbit, Triton and Crobee monsters. These fun earth tone counters can be used for counting, sorting, and pattern making. They are great for early learning and beyond.
Our Rainbow Pebbles set includes 36 pebbles in 6 sizes and 6 colours, and 20 x 2-sided activity cards. Young learners can copy the activity cards or create their own 2D and 3D objects, sort colours and shapes, and so much more. 
Edx Education's Sorting Bowls and Jumbo Tweezers will give everyone hours of fun, and you can add in a Christmas competition element depending on abilities. Who can sort the fastest, who can sort all the red items first?!
With so many different options you will find it hard to choose a counter to fill your bowls: Dinosaur Counters Jar, Vegetable Counters Jar, Farm Animal Counters Jar, Aquatic Counters Jar, Bug Counters, Translucent Counters Jar to name a few! All come in handy jars, ideal for stocking filling.
Learning to create
Want to improve your child's concentration, memory, manual dexterity and hand-eye coordination? All while working on colour recognition, pairing, shape sorting with a range of nuts and bolts toys? These are perfect to grow with your child as they will learn to make their own creations the more they understand how gears work. 
My Gears Junior Set is an open-ended educational toy for all junior engineers aged 4+ to push, pull and turn while developing their creative thinking and problem solving skills! All My Gears Sets link science, engineering, mathematics and art, and they will stimulate children's imagination and creative thinking skills.
The My Gears Machine Set, My Gears Animal Set and My Gears Transport Set are designed for 6+ years. Children will have fun learning the basic principles of gears while building the exciting models with the help of easy-to-follow instruction booklets. These are open-ended educational toys for young minds to explore their creativity while developing key problem solving and critical thinking skills. 
Learning through play is important and can help with imagination and both literacy and numeracy skills. 
Numbers and Letters
Our Transparent Letters and Numbers Set are also great Christmas stocking fillers. They are designed to be fun, colourful, and easy to use. Play with them on the light box, with dough or kinetic sand as it helps to increase attention span and focus due to the tactile nature of sensory play. 
GeoStix Letter Construction Set helps children to learn capital letters and lowercase letters and write words. The straight and curved flexible sticks snap together very easily, and in doing so, endless creations (including creations with moving parts) are created by students of all ages.
Teaching and learning numbers should be made easy and fun. Our Reflection Activity Set is a perfect example of this concept. It helps stimulate children's imaginations to explore symmetry and reflection with their creative designs. Children also develop problem solving and critical thinking skills while familiarising themselves with numbers.
With our Fun Play Number Rods the possibilities are endless. Encourage kids to copy the patterns on activity cards or simply use their imagination to design their own art piece. They will develop skills in basic math such as counting one to ten, addition, rotation, and measurement. 
Learning outside
Step-a-Forest Set is perfect for getting everyone outside. The Step-a-Trail set consists of multiple stumps and logs made of durable moulded plastic with soft nonslip lines to allow the children to walk and balance the winding log trails safely.
Other great items to have in the garden are balance toys like the Go Wheelie which will stimulate every child's imagination through encouraging roleplay, and develop balancing, coordination and communication skills. 
The Whizzy Dizzy brings hours of entertainment for ages 3 and up. Great for developing gross motor skills and improving hand-eye coordination. Healthy exercise and great fun.
View our full range of educational toys for Christmas for children of all age groups, abilities and developmental stages here:

Edx Education – Heather Welch
To find your local Edx Education retailer head over to Where to buy – Edx Education. 
https://edxeducation.com/wp-content/uploads/2022/11/Christmas3.jpg
1600
1600
edxseo
/wp-content/uploads/2019/11/edx-logo.png
edxseo
2022-11-21 18:37:31
2022-12-01 18:32:37
Which Educational Toys To Choose for Christmas?