A sustainable future with Edx Education
Educational toy manufacturers, like every other industrial sector, are looking for more sustainable ways to reduce their impact on the environment, and Edx Education is fully engaging in this journey and are currently working towards a better sustainable future in manufacturing and business practices.
More and more people are becoming aware of the effects and consequences that a growing population is having on the planet and are paying more attention to their consumption habits by choosing products that are environmentally friendly. For example, people are choosing to use cloth diapers/nappies instead of disposable ones, and bees wax wrap – which is even more reusable – Tupperware instead of cling wrap for keeping food fresh.
Another great way to reduce the amount of child lead waste is to buy toys made from recycled materials. In fact, you can now find lots of toys that are made safely from recycled materials including recycled milk jugs, soda bottles and other plastic containers, and even toys that are made from recycled newspaper or old tyres.
You might think that toys made from recycled materials are expensive, but toys made from recycled materials are now more affordable than ever before.
Background of sustainable toys and education resources
The history of sustainable toys and education resources started long ago when toys were generally made from materials such as wood, natural cotton and wool. But approaching the 1990s and 2000s, toy manufacturers became more interested in plastic, vinyl and other synthetic materials. These new materials made it possible to create many different types of toys, with some toys being able to move or create sounds.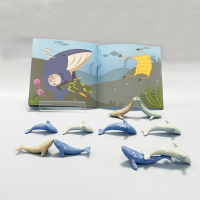 In recent years, there has been growing concern about the amount of one-time-use plastics that are being used, with many people concerned about one-time-use plastic pollution in the oceans and on land, and there are also concerns about the chemicals that are in some plastic products.
The production of sustainable educational toys is a response to these concerns, with toys now being made with materials that will not harm our environment, such as bio-based plastic, and made to be recyclable or reusable.
In the new Green-n-LearnTM, the Whale Story Counter Set has an important message about the effect one-time use of plastic waste has on our ocean because it is really important to educate our children.
Learn more about Edx Education's history, our philosophy, our mission, the key developmental areas we focus on, our educational outreach and more here.
Edx Education knows sustainability is a key area, because of the environmental harm, and has been making many changes to improve its practices. As sustainable educational toy manufacturers, we are paving the way forward with our values to be more sustainable in our business practices from manufacturing, carbon offset, offices, travel, providing more education programs to areas in need and generally showing everyone our commitment.
Our six focus areas for sustainability by 2024
At Edx Education we are committed to sustainability. We value and are continuously building on our eco-friendly toy practices. Our plan includes:
1. Educational For All
Education for All is a collaboration between Edx Education and many of our valued partners. We provide educational resources, programs and teacher training to disadvantaged communities around the globe. Educational sustainability is about providing to those who haven't had the same opportunities as others. So far, we have opened an after-school centre in Hualien and a mobile kindergarten with the Zhi-Shan Foundation.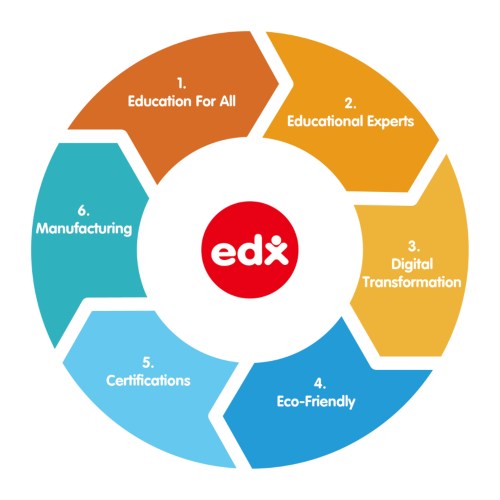 2. Educational Experts
Edx Education is continuously developing learning materials and resources with top education experts from around the world. Working with experts to provide the key experiences for development and hands-on learning. Their knowledge is essential for best practice and continuously changing with curriculums.
3. Digital Transformation
At Edx Education we have streamlined our internal practices from the supply chain, delivery, marketing, paperless procedures, data services and online resources to become more sustainable. We are also providing 100+ online extension activities for our educational resources to increase their longevity of play.
4. Eco-Friendly
Support projects, like the Ocean supporting Kuro Shio Ocean Oasis, that develop the environment around us. The goal of this project is to set up a Whales and Dolphins Conservation Zone in Hualien (east of Taiwan).
Develop Green-n-PlayTM and Green-n-LearnTM ranges on our journey to becoming fully sustainable at Edx Education.
Use recycled plastics, and sustainably sourced packaging (FSC certified) soy ink. Decreasing waste, using greener materials and embracing circular economy practices is the future outlook for Edx Education all to reduce our carbon footprint.
5. Certifications
At Edx Education we are committed to ethical, sustainable work and supply chain practices to create 'green toys'. Our supply chain and products for our educational ranges and toy lines are ethically and compliance audited by global auditing organisations (EN71, CPSIA, ASTM, CCC, Sedex, ISO 9001, ISO1 4001). We regularly visit and inspect our supplier factories to review the production process.
6. Manufacturing
We continuously work with each factory on developing more efficient practices and sustainable procedures. The Edx Education team is always looking to the future for more innovative materials to fulfil our sustainability goals.
Sustainability and trends going forward in the toy industry
In a US report, it has been noted that toy companies should generally assume responsibility for the sustainability of their supply chains and not rely on individual suppliers to take initiatives. In particular, companies should regularly communicate their expectations and criteria to their suppliers and explain why these are important from a sustainability perspective. This is something that we fully support here at Edx Education and why we regularly visit and inspect our supplier factories to review the production process.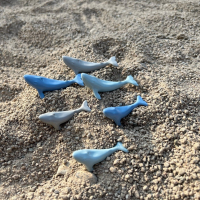 We also fully believe that in addition to being environmentally friendly, everyone should buy toys that help to develop a child's interests, encourage their creativity and allow them to play with other children instead of limiting their play to a specific role. Toys are a fundamental part of children's social, emotional and cognitive development. If they are given a chance to express themselves freely and play without limitations, they will be more confident in the future.
This is just the start of our eco journey at Edx Education and we look forward to sharing it with you and love all the support we have from the international community. So, let's continue to spark children's imaginations by learning through play to develop lifelong learners with more sustainable practices. In our latest Edx Education catalogue, we discuss these areas in our sustainability focus in more detail. Get in touch to learn more.
Edx Education – Heather Welch
To find your local Edx Education retailer head over to Where to buy – Edx Education.
For home learning toys for different age groups, developmental stages and abilities, view our full range here:
https://edxeducation.com/wp-content/uploads/2022/06/screen1.png
823
823
edxseo
/wp-content/uploads/2019/11/edx-logo.png
edxseo
2022-06-16 22:12:58
2023-05-24 17:23:17
Sustainable Educational Toy Manufacturers