If you're looking to score some back-to-school savings on educational toys, throughout the summer holidays in August is the time look, although our hands-on activities including learning basic maths concepts, communication, language, cognitive development, gross and fine motor skills and so much more are available throughout the school year.
Making it fun and engaging for children to return to the classroom will help towards a stress-free school transition. The first day of school can be a little stress full for everyone, so preparation is key! When getting ready for back to school, make sure that all school bags are ready to go the night before, especially for older children with all of the important things they need.
Make sure you set an alarm clock. A good morning routine for the outset is a good idea, whether you are starting school or home learning. Why not whip up an extra special breakfast for their first day? It'll keep your kids' tummies full, and make them look forward to getting up early! Even if your kids are doing school at home, make them a packed lunch in a special lunchbox like a bento box. Get your kids involved by asking them what they want, and have them help you get it ready.
Edx Education has been designing and producing innovative educational products and materials for more than 25 years, and are passionate about the 'learning through play' movement.
We are going to look at some school supplies that you can invest in during the weeks before school starts as part of your school shopping, to build confidence and best help the transition from holiday to studying to a classroom environment, for those starting school for the first time or returning after a spell of home learning.
Note that there is potentially a chance that we may continue learning at home at some point during the winter, so anything you invest in now, can be used again.
Our Place Value Abacus helps children in visualizing numbers to develop number sense, and to become proficient in place value, and also helps advance important maths skills in counting, sorting, place value, addition, subtraction, multiplication, division and subitising.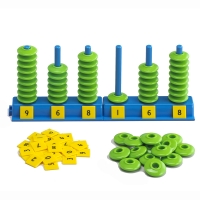 Early Math101 Geometry & Problem-Solving Level 1, Level 2 and Level 3 and Early Math101 Number & Measurement Level 1, Level 2 and Level 3 are designed for children aged 3-6. Parents can have quality playtime with their children who can learn number sense, geometry and logical thinking through playing together. Each kit has high-quality manipulatives, activity cards and activities, and is packaged in a hand-carry plastic case.
Early Math101 To Go Number Rods are a great tool for children to play and learn number relationships, number comparison, part-part-whole, and understand multiplication concepts.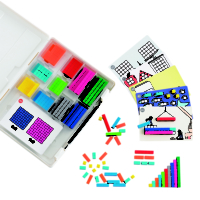 Edx Education has developed quality hand on education materials to foster children's learning through play in the classroom and at home.
One of the best ways is making learning fun and engaging through play, it is crucial for children's development; physically, cognitively, emotionally, socially and creatively. It allows them to engage in the world in a way that feels safe, explore different roles, address fears and develop confidence.
Children are keen to get back to see their friends and keen to leave the home bubble and get to school. But not many are ready for school as their attention span may need a little attention has been away from school for a while. Here are some of our best-selling products to help them with this.
Rainbow Pebbles® are an essential educational toy for all children and special needs learners. Children love playing with the wonderfully smooth, calmingly tactile experience of the Edx Rainbow Pebbles® Rainbow Pebbles have a ripple effect on children's imagination as they play!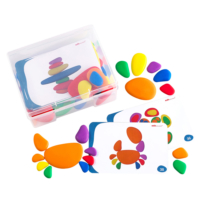 Children enjoy playing with FunPlay Geo Pegs by pushing in, pulling out and stacking. Rectangular pegboard and round pegboard will encourage children to create different patterns.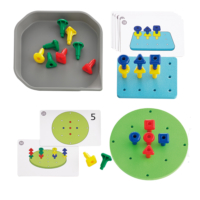 FunPlay Number Rods are a great tool for children to play and learn number relationships, number comparison, part-part-whole, and understand multiplication concepts.
Junior GeoStix® improve fine motor skills and develop creative thinking skills with this new construction set. 8 different length flexible sticks, quadrants and semi-circles that snap together. An ideal hands-on manipulative for children from 3 to 99!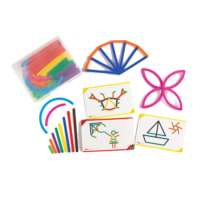 Children will love exercising their fine motor skills as they learn about size, shape, and colour variation with our FunPlay Attribute Beads. This set provides endless possibilities for learning these important skills, while also laying the foundations for basic math concepts.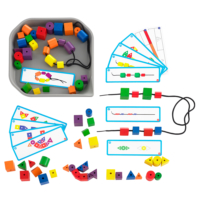 Our education and product development philosophy is Learning Through Play, to develop quality hands-on educational materials to foster children's learning through play in the classroom and at home.
It's imperative that we don't forget to play, in school and at home. Time must be made for this as it will have a huge benefit to everyone's emotional wellbeing, whatever age we are. Yes, all children love to play. Some love to learn. And there's the opportunity. Let's make learning playful. And make play educational.
To find your local Edx Education retailer head over to Where to buy – Edx Education.
Wishing you everyone good luck with forthcoming transitions!
https://edxeducation.com/wp-content/uploads/2020/10/edx-education_13208C_Rainbow_Pebbles-8.jpg
1000
1000
edxseo
/wp-content/uploads/2019/11/edx-logo.png
edxseo
2021-08-30 12:00:39
2021-09-16 17:24:52
Getting Ready for Back to School