Edx Education were honored to have been selected
as 2021 NAPPA Award winners.
National Parenting & Product Awards (USA) for the following Educational toys and categories.
NAPPA has been celebrating the best for 31 years! The industry knows and respects NAPPA awrds and parents trust them. It is one of the longest running awards programs in the country, are the "go-to" source for parents and professionals seeking the best products for their children and families.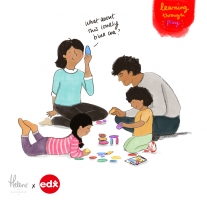 The FunPlay range, STEAM home learning range that teaches essential early maths & literacy skills through 'learning through play', a method of teaching proven to be highly effective in the early years. Play, Learn and Create with the Rainbow Pebbles, help children's key developmental skills in the early years from fine to gross motor skills, communication and language, cognitive development, encourage creative play, literacy, problem solving, critical thinking and so much more.
FunPlay Rainbow Pebbles – Evaluation comments:
"The quality of these are wonderful."
" The pebbles are colorful and come in many different shapes and sizes. They are the perfect weight–not too heavy and not too light. They have a matte finish on them which keep them from slipping out of your hands when you're holding more than one."
"I like that they're flat for intuitive stacking, but not completely, so it takes a little focus and concentration to pile them on top of each other."
"The activity cards show different patterns and designs that you can mimic. There are 50 (25 double-sided cards), which will take my daughter a long time to get through. She loves stacking the pebbles, sorting them by size and color, and hiding them around the house for us to find."
"As an adult, I initially wondered what can I do with a bunch of rocks? It only takes the untethered imagination of a child to realize there are so many things you can do with them! The box helps too because it offers ideas such as stacking, sorting, measuring, and making different shapes and designs."
"It's a useful activity for practicing fine motor skills and teaching numbers, colors, and other types of categorization. The innovation is in its simplicity!"
"I really love seeing how a simple toy brings out so much creativity in a young mind."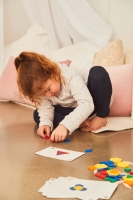 Our edx education® Early Maths 101 To Go – Geometry & Problem Solving – Level 2 is a fantastic bumper math kit to support your 4-5 year old at home with learning early mathematical concepts.
"I like that this educational set for preschoolers comes with pattern blocks, peg and peg board and Lacing beads."
"It's great that there is a parent-child activities list that shows how to use each product, providing ideas for how to use them to encourage math and language. "
"Many educational lessons can be competed using this set such as learning same/not the same, creating puzzles, creating patterns, dictation about the creations the children make, building towers, learning about geometry and symmetry, colors and much more. Teachers, parents and children can get very creative with this set and the children will be learning while having a lot of fun."
"I think this product is wonderful. Each item is in its own reusable plastic baggie and the whole set is in a sturdy plastic case- making clean up and storage easy."
" I like that there are multiple ways to use each item and that children will be learning while enjoying the materials."
"I would buy this for a new preschool or Kindergarten teacher to use in class or for a family with preschoolers."
Step-a-Trail is an exceptionally well-conceived and executed product that children not only find to be loads of fun but that also helps them acquire a host of physical skills. Youngsters employ a great deal of creativity in arranging the pieces in a large variety of impressively original configurations, encouraging themselves, friends and family to develop the necessary balance, strength and motor skills to conquer any and every obstacle course they concoct!
"The colors are very vibrant and the "stumps and logs" are sturdy enough for an adult to stand on, while also being light enough for kids to move around themselves. Very impressed off the bat!"
"This is a fantastic toy to have around for fun, educational indoor play. Kids can have a great time jumping from log to stump while working on their gross motor skills and engaging in imaginative play. Balance and coordination are improved as they walk from piece to piece."
"My daughter loves to play "floor is lava!" She also likes seeing how far she can jump from piece to piece and creating a challenge. She also likes to arrange the pieces in different ways or at different distances to see if she can follow the path. You can see her mind ticking while she considers the placement very carefully."
"The plastic is really heavy duty; they are wide enough and strong enough that an adult can also stand on them. The bottoms and tops are rubbery, so the pieces do not slip around on the ground and the kids don't slip when hopping from one piece to the next."
"When we're not playing with them, the logs stack easily and the stumps nest within one another."
"These logs and stumps are a ton of fun for the kiddos!"
" They are a good way to practice gross motor skills. My child enjoys setting up and rearranging different obstacle courses until it's just right before asking us to take a turn."
"I love how much she uses her imagination with this toy."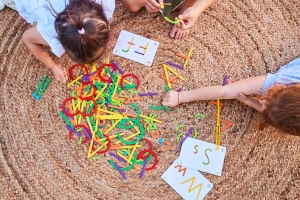 Children will explore with the different sized GeoStix. Ideal STEAM product, linking engineering, art and mathematics. It will stimulate children's imagination and creative thinking skills. Hands on learning, improve fine motor skills and develop creative thinking skills while playing with this letter construction set. Have fun developing early childhood skills in creative thinking, problem solving skills. These hands-on, visual manipulatives foster creativity and demonstrate a variety of fundamental literacy concepts. The activities inspire play-based learning to make teaching fun! Designed for endless creativity, learning through play.
Geostix® Evaluation comments:
"This is such a great idea for a toy!
The toy is packed in a sturdy, clear case with a bunch of cards showing you show to construct letters as well as fun pictures like astronauts and construction trucks. The pieces are very colorful, which my daughter was instantly drawn to."
"We've been having so much fun with this toy."
" The set is made up of a bunch of sticks and curved lines at various sizes. Each have their own color. They have little holes and notches that snap together. My child is improving her fine motor skills by attempting to snap the pieces. We've been able to do a lot of educational activities together. She'll pick a picture for me to make, and I'll ask her to hand me specific pieces without pointing at them. She's getting very good at identifying different color shades and sizes. She loves playing with and moving around the pieces that are snapped together, and creating her own designs. I'll also put together uppercase and lowercase letters and ask her to match the correct ones."
"There are so many options for play at different stages of development!"
Thank you so much NAPPA for recognising our Educational toys for hands on learning for children.
A new – and growing – collection of digital materials are available online. Supporting new ranges read the 'Play blog' on the website, listen to the podcast. See the games and videos and make use of the free downloadable resources for home learning in the teachers/parents section.
Head over to www.edxeducation.com  even sign up for the monthly newsletter.
Lets create life long learners with Edx Education.
https://edxeducation.com/wp-content/uploads/2021/07/Nappaawards.jpeg
1592
1574
edxseo
/wp-content/uploads/2019/11/edx-logo.png
edxseo
2021-07-05 17:27:58
2021-07-06 08:31:58
NAPPA Award Winning Educational Toys - Edx Education