How to design an active children's play area out in the open
It has been well documented the importance of outdoor play for early years and beyond. It's invaluable for children to explore all types of outdoor areas as often as possible, come rain or shine, including back gardens or yards, parks, woods, beaches – basically anywhere that's outside!
We are going to look at how any size outdoor space can be turned into a fun outdoor classroom or creative play learning environment, encouraging children to be inspired by the outside world.
For all ages, outside play and education should go hand-in-hand. Children should be actively engaged with the excitement of being outside, amongst nature and the elements.
Planning and creating engaging outdoor play spaces for children is a time to get creative. Outdoor play areas should draw children into exploring, experimenting and building with many different types of items. It's a great opportunity to mix things up – don't be too organised – instead go for large loose parts and open ended materials so that they can move around, rearrange and add to the spaces in different ways, encouraging children to extend their play.
Keeping in mind that everyone has a different size space for their play environments, skillset and budget to work with, just a few basic ideas and items, and a little inspiration, can create something that will work for all. We are going to look at open ended outdoor toys and recycled materials that will give hours of natural play in any size outdoor play areas.
Read our Edx Education blogs on the benefits of outdoor play for early years and playing together in nature for information on educational and health benefits, plus many great ideas.
Outdoor kitchens and messy play
Children love outdoor kitchens and mud kitchen areas that encourage role play, imagination, investigation, problem solving and group games. They can be made up of one piece of old 'real' kitchen equipment like a sink, or a bucket, a few creates and a bit of wood, or an old toy kitchen that was designed to be inside but has seen better days – the possibilities are endless!
Team the kitchen with some water and sand and you will have a perfect messy play environment. There is nothing better than seeing children be free to explore and experiment through messy play, because the learning opportunities are endless being creative, using their imagination and generally challenging themselves.
You could add a water wall or Fun2Play Activity Tray; a multi-purpose activities' tray which can be used for sand and water play with a few sandpit toys or our Transparent Tactile Shells. It can also be used for art and craft, for light box activities or for planting. Or Edx Education's Circular Sand and Water Tray is perfect for outdoor fun with multiple interior levels and slopes to allow children to explore many different activities.
Let's get active
Obstacle courses are great nursery outdoor play area ideas because they are so much fun, with all ages being able to take part. Add some tyres and planks, or mix and match with our Step-a-Stumps and Step-a-Trail, and your outdoor area is ready to go! The Step-a-Trail set consists of 3 stumps and 3 logs, and the Set-a-Stumps consists of three stump shapes, all of which are made of durable moulded plastic with soft nonslip lines to allow the children to walk and balance the winding log trails safely.
Throw some of our Number/Dot Bean Bags or Alphabet Bean Bags in the mix, and you have created clever ways to challenge fine motor skills and gross motor skills, balance, coordination, problem solving, and also communication and teamwork.
Other great items to have in the garden are balance toys like the Go Wheelie which will stimulate every child's imagination through encouraging roleplay, and develope balancing, coordination and communication skills. The Whizzy Dizzy will give hours and hours of entertainment for ages 3 and up. Great for developing gross motor skills and improving hand-eye coordination and promoting healthy exercise and great fun.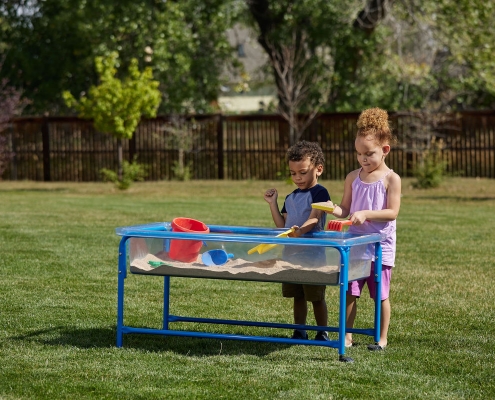 It's a bug's life
You could section off an area of your space for all things natural. Bugs and minibeasts are an important and fascinating part of the wildlife in our gardens and they make their homes in small worlds within any outside space. They can be an important source of food for other animals like birds, are essential to pollinating our flowering plants, and are useful workers when it comes to decomposition and giving us nutrient rich soil.
A great way to give a home to bugs is to build a wildlife stack. They are simple to make, can be made any size to fit your space and can use recycled materials – in fact you may even have everything you need already!
Bug boxes provide snug, safe places for insects to hibernate. Full of dark nooks and crannies and different structures, they're great fun to build and brilliantly replicate the kind of features lots of minibeasts and other animals look for in our gardens. Children will love seeing them develop.
Time to get outside
Children move much more when they are outside and higher levels of outdoor play results in better motor-fitness, coordination and muscle strength. Outdoor play is It is less constrictive than being at home or school allowing decreased adult supervision – children have more control and learn to be more autonomous.
We hope you embark on some of our nursery outdoor play area ideas, to get you into the great outdoors and make whatever space you have perfect for both fun and development. Being outside can reduce sensory overload and provides a space for children to explore and learn to take risks. Don't wait for sunshine, a bit of rain adds to the fun!
For outdoor learning toys for different age groups, abilities and developmental stages, view our full range here:
https://www.shopedx.co.uk or www.amazon.com/edxeducation
Edx Education – Heather Welch
To find your local Edx Education retailer head over to Where to buy – Edx Education.
https://edxeducation.com/wp-content/uploads/2022/04/66011-032.jpg
800
1200
edxseo
/wp-content/uploads/2019/11/edx-logo.png
edxseo
2022-04-07 01:13:36
2022-04-07 01:14:44
Looking for Nursery Outdoor Play Area Ideas?