At Edx Education we love math puzzles it is very popular with our community so we had to share our new puzzles for children 6+ developed in partnership with Dr Paul Swan.
Do you like a challenge with math games we have new puzzles to solve.
These are great for children to learn the language of mathematics by solving perplexing puzzles.
They help develop strategic thinking, problem-solving, language in mathematics, communication and so much more.
At a basic level, playing a game helps a child gain an understanding of the rules and practise maths, but as they improve, they can think more strategically and push themselves further.
These perplexing puzzles are great for extending children knowledge so let's have a family fun challenge this week with math puzzles.
Download the Perplexing Puzzles (6-8 years) with 4 fun & challenging maths problems for advanced learners or family fun to learn together.
Great way to have fun and learn a more diverse math vocabulary.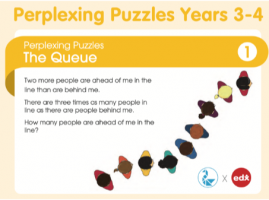 Here is an example of one of the perplexing puzzles for our little minds to solve.
Great for the classroom or at home children will love the challenge to work together to solve the puzzles.
Math Puzzles Developed by Dr Paul Swan in partnership with Edx Education.
A new – and growing – collection of digital materials are available online to support new ranges read the 'Play blog' on the website, listen to the podcast, see the games and videos and make use of the free downloadable resources for home learning in the teachers/parents section.
Even sign up for the monthly newsletter..
https://edxeducation.com/teacher-parent/resources/
Let's play and learn together to create lifelong learners.
Posted by Heather Welch, Edx Education
https://edxeducation.com/wp-content/uploads/2021/02/Perplexing-Puzzles-Year-1-2-01.jpg
700
700
sandra
/wp-content/uploads/2019/11/edx-logo.png
sandra
2021-02-26 17:00:23
2021-06-23 01:21:04
Math Puzzles – Now Available