At Edx Education we strive to build early learning experiences, adhering to curriculum requirements and supporting children's key development areas, all through working with educational experts around the world. It's upon these pillars that our values are built.
Launched 25 years ago by our CEO & Founder, Murray Jackson, to supply world-class products, Edx Education soon pivoted to designing and manufacturing high-quality educational products in response to the ongoing demand for more innovative products by schools, teachers, parents and caregivers.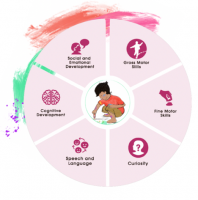 Murray Jackson explains:
"Edx Education is passionate about learning through play, which has long been recognised as a highly successful method of learning in early years education both in the classroom and at home."
To this end, the design team has been creating educational products for the key learning areas (refer to Diagram 1) for children's needs at different stages of their development from 18 months and above.
The range features products and games which support each area from early childhood through to primary school, including key Edx Education areas of focus, such as Mathematics Manipulatives and Early Childhood Active Play.
In the UK curriculum, Early Years Foundation Stage (EFYS) looks at teaching through games and play-based learning.
Children minds are curious, they need to explore and experiment through play – especially in the early years – and this is something which should be actively encouraged by teachers and caregivers.
Open-ended toys are a versatile option and allow a child to grow with the product and can help promote a child's development. It is equally as important for a nursery to provide children with activities that can be utilised for multiple age groups and levels of learning experiences.
There is no need for an abundance of products to help our children's brains develop. Outlined below, are just six essential outdoor and indoor Edx Education products that provide the basic platform for purposeful play and cover the key learning areas for children in a nursery setting:
OUTDOOR PLAY
Active play allows children to play independently or as part of a group. Children love to be active whilst learning to balance, jump, skip, hop and play. They develop gross motor skills and coordination at different rates so it's great to have an allocated area outdoors for children to explore in an unstructured way.
This Summer, there are three essential outdoor Edx Education products, which both enable and encourage children to explore and experiment: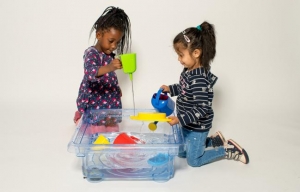 There are many aspects of learning through water and sand play, including the development of fine motor skills – as they pour from one container to another – and early maths skills.
International education expert and consultant for Edx Education, Dr Paul Swan, refers to the development of these skills through water play and how learning without realising is key to the development of early maths skills in his book 'Early Years Experiences':
As children pour from one container to another, they will be developing fine motor skills. Consider how difficult it is to fill a container to a specific level? With the trays, water activities can include:
Measuring, emptying, pouring and filling up to a level
Using sieves, syphons and hoses
Floating and sinking
Washing dishes, clothes, babies, dolls.
Sing songs like 'rain rain go away' and children may leave a tray out in the rain to see how full it get
The sandpit (outside) or sand tray (inside) provide children with many similar experiences to the Water Tray.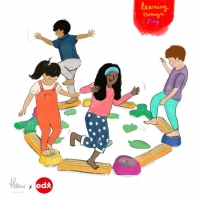 The Step-A-Forest is extremely versatile as it enables both group and individual learning through play. It allows children to create their own activities while using their imagination, planning and problem-solving skills to design an obstacle course by laying out hoops, barriers, mats, and paths to follow.
Gross motor skills are also honed as they navigate their way through the obstacle course, climbing over and crawling under, walking between objects, rolling across a blanket and jumping through a hoop to the Step-A-Forest.

Developing hand-eye coordination through active play, the Joey Jump can teach children the invaluable skills of balance, catching and sharing while encouraging physical activity.
Whether they use it indoors or out, children will enjoy practising this stimulating activity again and again.
The Joey Jump requires the active use of arms and legs, which improves muscle strength and children will develop agility as they launch and catch! A great solitary or group activity to build hand-eye coordination.
INDOOR PLAY
Edx Education's three essential indoor toys involve skills like balancing and laying one object on top of another, developing fine motor skills, curiosity, speech and language, cognitive development and creative design.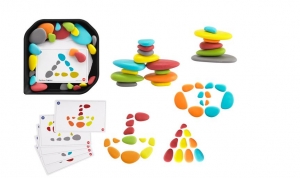 A flexible and open-ended toy, Rainbow Pebbles® can develop a child's depth of knowledge through creative play.
Ideal for developing fine motor skills, which are essential for learning to write, Rainbow Pebbles® also encourage a child's counting, sorting and creative abilities.
Suitable for ages 18 months and above, the pebbles can be stacked, arranged by colour and used to make fun designs, among other activities.
As children select colours and shapes and decide how many pieces they need, they cultivate their foundation skills in design thinking, problem-solving and critical assessment.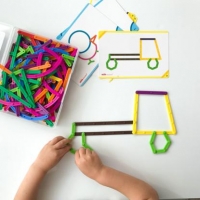 Children love to imagine, build and get creative, and the Junior Geostix and activity cards will kick-start hours of open-ended play.
This range is inspired by the various construction materials found in the back corner of most classrooms, including bricks, sticks, cubes, cardboard boxes, foam trays and cardboard tubes.
As children push GeoStix® together and pull them apart or balance blocks on top of one another they will be developing their fine and gross motor skills, while also expanding their creative thinking and problem-solving abilities.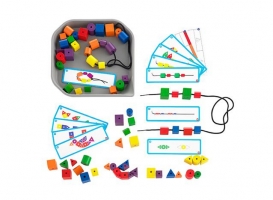 One of our favourite open-ended toys, FunPlay Attribute Beads help children to develop fine motor skills while threading beads onto strings and laces, or stitching string through holes.
Often children make macaroni necklaces that involve threading pasta onto the string and then tying the ends together – this is an activity that can be mimicked with the FunPlay Attribute beads. Threading beads will produce linear patterns that can help encourage language and categorising skills by describing the patterns according to the object name, colour or a combination of both.
Edx Education continues to work with teachers, education experts and distributors to focus on fostering – and enhancing – learning at home with open-ended play with quality toys and kits. All the Edx Education products mentioned in this article are available for children to complement their development and learning around the globe.
Great article 'Early Learning Experiences and Purposeful Play with Edx Education' published in NMT latest issue to see the full article
click here. (Page 40-42)
https://edxeducation.com/wp-content/uploads/2020/10/Edx-Education-NMT-Sep-Oct-Issue.jpg
1000
707
sandra
/wp-content/uploads/2019/11/edx-logo.png
sandra
2020-10-16 17:00:35
2021-09-14 00:17:40
Early Learning Experiences and Purposeful Play with Edx Education