Calling all parents that want to keep their toddlers entertained – and help them develop important skills! We've put together a list of toys and activities they'll love. From puzzles to blocks, kitchens to counters, these toys are sure to keep your young children engaged for hours. 
Plus, we've got some awesome outdoor gross motor activities that will get them moving and exploring the world around them. So, if you're looking for the best toys to entertain toddlers, you've come to the right place!
What to look for in toys for toddlers?
When it comes to buying toys for children aged 18 months+, safety and durability are key. Make sure the toys are age-appropriate and will help your little one develop their fine and gross motor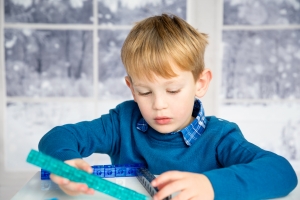 skills, explore the world around them and use their imagination. It's an exciting time for them, so let's make sure the toys match their energy. Toddlers love exploring and learning through play – which is also our philosophy!
The best toys to entertain toddlers should be bright and engaging – that way, they can have fun while learning something new.
Toys that encourage creativity and imagination
Shopping for the perfect creativity toy can be a bit overwhelming. And for imaginative play – there are just so many options! But don't worry, most toys out there can help your little one unleash their creativity and imagination, meaning they will have fun while learning. 
If you're looking for ways to help your toddler develop these skills, a play kitchen is a great option for both boys and girls! It's so much fun for your little one to use their imagination to create all kinds of meals, especially with our Vegetable Counters and Fruity Fun Counters. Plus, pretend play is a great way to encourage social skills. Read more on outdoor kitchens and messy play.
Building toys are a great inclusive toy which will help children develop creative skills, as well as motor skills. Edx Education's Math Cubes Learning Set are a multifunctional manipulative that can be used for all levels of learning. They come together with a satisfying click and the building options are infinite.
Toddlers love creating, doing, being endlessly curious and getting into everything. Play Doh is always a favourite with related play sets or just various cutters and rollers. Add an educational twist by incorporating letter cutters. Or why not create a paint rainbow out of Lego Duplo bricks to help your child's visual organiser skills.
If you're looking for toys that will help your child's creativity and problem solving skills, consider buying toys that can be used in multiple ways. These types of toys will help them be a critical thinker.
Educational toys for toddlers
Educational toys are a great way to help your toddler develop key skills while having a blast! There's a variety of toys out there to help your little one learn problem solving, hand eye coordination, communication, motor skills and more. When you're shopping for your tots, keep in mind their age and interests. With the right educational toy, your child can have a blast and learn at the same time – what could be better?
We recommend our Fun Play Geo Pegs and Geo Pegs & Board Set as one of the best educational toys for toddlers. They are a fun and interactive way to help your child play sorting and stacking games. Great for learning colours, improving fine motor skills, hand-eye coordination, reasoning and problem solving skills. They will also promote mathematical concepts such as addition and subtraction going forward.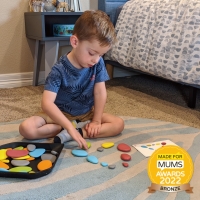 The Junior Rainbow Pebbles Activity Set is fantastic for children to play, learn and get creative! These safe, smooth and tactile pebbles will spark your child's curiosity and encourage them to use their imagination to develop unique and interesting ways to incorporate them into play. Their odd shape makes them wobble when stacked, creating an extra challenge for young learners, and developing fine motor skills. 
Look for toys specifically designed for toddlers – these can help nurture early skills, plus they're a great way for you and your little one to bond. Read more on

Educational toys for child development

.
Toys that promote the development of fine motor skills
As parents, we all want to give our kids the best start in life. That's why it's important to make sure they develop the right skills, like fine motor skills. You can help foster their development with fun toys that promote their hand-eye coordination, dexterity, and problem-solving skills. Here are some awesome toys you can use to help your child's fine motor skills grow!
Children love playing with puzzles. Shape sorters are a great option too. They are a great way to have fun and learn at the same time. Toddlers love putting things together and taking them apart, so puzzles are perfect for helping them learn about shapes, colours and sizes. Plus, it's a great way for parents to bond with their little ones – they'll even learn to follow directions which will come in handy later on.
Team our Jumbo Tweezers with our Sorting Bowls to really aid your child's fine motor skills. They can have hours of fun picking up and sorting Edx Education's Farm Animal Counters, Dinosaur Counters, Transport Counters, Monster Counters, or absolutely anything you have lying around the house! But of course, beware of small parts and little mouths.

The Nuts and Bolts Set is an essential addition to a young learners tool kit! Colourful and tactile, they can be used for colour matching, shape sorting or just to keep fidgety fingers busy. Their size makes them perfect for small hands to manipulate, improving dexterity, fine motor skills and hand-eye coordination.
Every child is different and learns and grows in their own way, so it's important to find what works best for them. But the most important thing you can do as a parent is engage with your child.
Toys that help to develop gross motor skills
Gross motor skills are super important for a kid's physical development – it's all about those big muscle groups like arms, legs and torso. The best toys are those that are easy to hold, play with, and move around. There are lots of great options out there, like ride-on toys, balls, tricycles, jump ropes and playground equipment.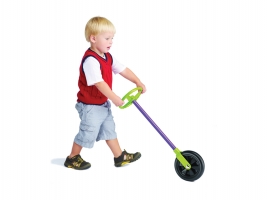 Options include our Step-a-Trail or Step-a-Stumps, throw and count Bean Bags into a bucket or hoop, and finishing with a lap of your space with one of our Go Wheelies or a turn on a Whizzy Dizzy. Not only are they fun, but they also help build strength, coordination, balance, and agility.  The possibilities are endless! 
Not only will these activity toys help your toddler develop balance and coordination, but they'll also keep them entertained for hours!
Playing with toys is crucial for a toddler's development and growth – and for having lots of fun too! It's important to look for toys that promote fine and gross motor skills, foster creative kids play, and provide educational benefits. Plus, don't forget to look for toys that they are interested in, are age-appropriate and safe. With these tips in mind, you'll be able to find the perfect toy for your little one!
Shop our full range of educational products for children of all age groups, abilities and developmental stages here:

UK

https://www.shopedx.co.uk

or

www.amazon.co.uk/edxeducation
Edx Education – Heather Welch
To find your local Edx Education retailer head over to Where to buy – Edx Education. 
https://edxeducation.com/wp-content/uploads/2023/01/6J1A7879-LCF-low-res.jpg
1600
2400
edxseo
/wp-content/uploads/2019/11/edx-logo.png
edxseo
2023-01-18 18:35:12
2023-04-04 17:08:29
Best toys to entertain toddlers